PASTOR KEITH & FIRST LADY TANISHA HACKETT
Pastor Keith and First Lady Tanisha Hackett come to GNWBC from Greater Salem Baptist Church in Louisville, KY, where he served faithfully as their Senior Pastor for 16 years. Before becoming Sr. Pastor at Greater Salem, Pastor Hackett served as Director of Thurmond Coleman Sr.'s Family Life Center for First Baptist Church of Jeffersontown, KY. While in Louisville, Pastor Hackett was active in numerous community and civic activities and organizations.  He was a recurring speaker for the Fellowship of Christian Athletes, a Life Member of the NAACP, an officer and member of the Louisville Urban League Youth Professionals, and an officer and member of the Baptist Fellowship Center Board. He also served tenure as the Dean of Education for the J. L. Roberts School of Religion. Pastor Hackett was bi-vocational while serving as Greater Salem's Senior Pastor.  He served as a Senior Executive in the Louisville Metro Government, where he managed million-dollar budgets and supervised hundreds of people with Louisville's Department of Public Works for 18 years, and currently serves as the Facilities Manager for Louisville Metropolitan Sewer District (MSD). While working with Louisville Metro Government and MSD, Pastor Hackett obtained numerous certifications, completed voluminous hours of extensive executive, and professional education training.  He was also affiliated with numerous professional organizations and associations.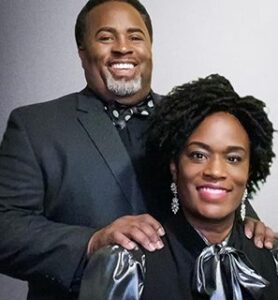 Pastor Hackett is an alumnus of Ball State University, where he received his Bachelor of Science in Natural Resources. He was also a Ball State University football team member during his college matriculation. He has also completed hours toward his Masters of Divinity in Pastoral Counseling at Southern Baptist Theological Seminary in Louisville, KY.
First Lady Tanisha R. Hackett, a former resident of Indianapolis and member of GNWBC, has been Pastor Hackett's rock, best friend, and matriarch of their family throughout his secular and ministerial career. She originates from Decatur, Illinois and graduated from Stephen Decatur High School in 1989 although she was in the class of 1990. She then moved to Indianapolis, Indiana, and received a Bachelor of Science Degree in Business Administration and a minor in Computer Information Systems in May 1995 from the Indiana Institute of Technology. Tanisha received her certificate of completion in a 21-month Discipleship & Co-labors class at Southeast Christian Church, Louisville, KY, on May 31, 2016. She also received a Master's Degree in Human Resources and Organizational Development at the University of Louisville, where she is employed. She graduated on May 8, 2021, Summa Cum Laude, and received the R. Wayne Pace Human Resources Educational Research Award.
First Lady Hackett served as a Financial Coordinator for the University of Louisville, Department of Surgery and has been with them for over 13 years. More importantly, she understands that she has a vital responsibility to serve and be a witness for God through word and deed, desiring to exhort others and be a light wherever present.
Her greatest joys are her personal relationship with our Lord and Savior, Jesus Christ. She desires to walk in the will of God through being a wife and helpmate to a remarkable man of God, being a mother, grandmother, ministering to her family, teaching women's bible study, discipline women one-on-one, and sharing the gospel for His glory! Pastor Hackett and First Lady Tanisha are the proud parents of two sons (Jaelyn and Keith II) and two daughters (Ronnee and Brenda), and a grandson (Nolan).